Dave McMahon's Dog Training Academy
Dave owns and operates Niagara's top dog training academy. "I love what I do every day of my life, I have made my passion my profession. I help people and their dogs, I know that I make a difference in their lives."
Originator of the "First Command Response Training Theory and Methods" that are used by graduate student trainers worldwide, Dave McMahon is also a consultant to rescue groups on the assessment and temperament of dogs that are adopted.
Presently:
Author of "Obedience Training For the Family Dog"
Author of "Don't Get Bit" A Dog Bite Prevention Book For Children
Work:
Proprietor/Operator of McMahon's Dog Training Academy
Professional dog trainer and behavior specialist
Owns and operates the largest dog training school in the Niagara region of Ontario
Instructor of All Breed dog obedience classes
Voted "Best Dog Training School – Dave McMahon's Dog Academy" by Readers Choice Awards
26 years experience evaluating and temperament testing dogs
Training in personal protection estate and corporate security
Instructor at Niagara College in Welland Continuing education since 1990
Trains K-9 body guards to protect their handlers
Therapy dog trainer and handler, actively visiting retirement and nursing homes in the Niagara region.
Past work:
Listed in the 2004 & 2005 Blueline Law Enforcement Supplies and Services GuideListed in the 2004
Dogs Annual under the Ontario Trainer Directory
Trained Humane Society Staff on the "Proper use of Training Collars" & Humane Training Methods
Listed in "Dogs In Canada Annual 2005" & "Dogs U.S.A. Annual 2005"
Provided 1st Therapy Dog and Handler to the Tender Wishes Foundation of Canada
Provides presentations at public schools "Safety for Kids".
Volunteers frequently to give talks to children on safety around dogs, and dog bite prevention.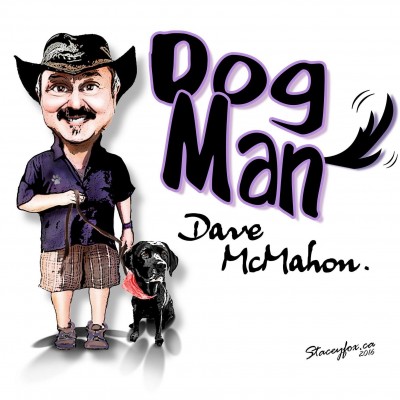 A funny and informative call in show with professional dog trainer, Dave McMahon. Tune in for dog related news and call / text Dave during the show for the answers to all of your canine questions.
Stay tuned for the July 1st broadcast (Monday night 7-8pm) our very own Treesje Bjorgen from Vineland Estates will be on the show to talk about Muddy Paws Wine Festival!