The Bello Project at Muddy Paws 
The Bello Project will again be the charity that is supported by  the event. 
Visit their information booth and learn more about the Project and the services available in your community. Please make sure to bring your adorable canine friend to visit the 'Pawcasso's Studio' Booth at Featherstone Winery. You will be surprised at the inner Pawcasso we can draw out of your pooch when we supply you and your dog with the tools to get creative!
Don't forget to tag your day on social media! #muddypawswinefest #thebelloproject
What is the Bello Project?
The Bello Project is a service of the Home Hospice Association (a Registered Canadian Charity) and works with an owner to lessen the worry of what will become of their pet at the time when the owner is faced with a life limiting diagnosis. Trained volunteers and professional services help the Bello Project keep the bond of unconditional love and support together for as long as possible.
How does the Bello Project organize care?
Stress and inability to cope with the additional pressure of illness may result in a decision to remove a pet from the home of someone who is terminally ill; against their wishes.  The Bello Project  supports the basic care needs so that they don't become a barrier for the pet and owner to stay united.  Basic care may include transportation of the pet for appointments (medical / grooming), maintaining appropriate standards of care pertaining to feeding, walking, cleaning (cage, litter box, aquarium, yard cleaning) and temporary overnight care when short hospital stays are required or if the person is well enough to make a final trip to see family. 
The Results
The result is a more peaceful death for the owner knowing their beloved pet is looked after, an awareness of the loss of their owner for the pet resulting in an acceptance that helps it recover in its new home. The family of the dying person, especially in the situation where much guilt and remorse is felt due to an inability to take over the care of the pet, there is a sense of comfort knowing that the pet is going to be residing in a loving home of their loved one's choosing. The Bello Project assists in the process of gathering suitable candidates, funding any care the pet may need during the rehoming process, works with the funeral home to arrange visitation or funeral service attendance (for the pet) and transitions the pet to the new home after death (of the owner).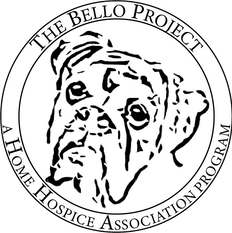 A heartfelt thanks for your support!
Maintaining the human-animal bond between owner and beloved companion is ultimately in the best interest of both. And it is through the generosity of many community members such as the wineries of Muddy Paws that we are able to provide this service at no cost to the pet owner.