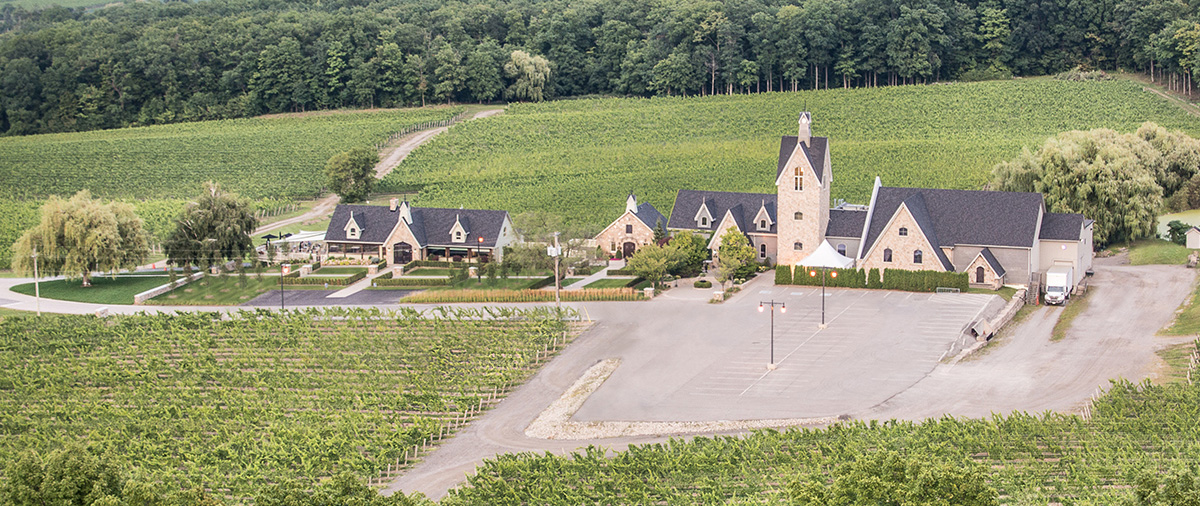 Vineland Estates Winery
Open all year, Vineland Estates Winery is not only the home of fine wine and cuisine, but an unmatched touring facility and wine country  destination. At this picturesque venue, extensive vineyards on the bench of the Niagara Escarpment provide the stunning backdrop to a  unique cluster of carefully restored historic buildings.
Our landmark stone tower stands proudly over a former Mennonite homestead with structures that date back to the 1840s. These  include the former farmhouse, now The Restaurant with its panoramic views of the vineyards; the century barn that houses our retail  store and wine tasting bar under soaring wood beams; and the charming stone Carriage House, with its intimate surroundings for private  events.
For over thirty years, Vineland Estates Winery has continually elevated the wine and culinary experience in Niagara. Here, the essence of  the Niagara escarpment can be both seen – in the unforgettable landscape of undulating vineyards looking over Lake Ontario – and  tasted, in the wines that are a reflection of this unique growing area.
Restaurant : As one of Niagara's first winery restaurants and a forerunner of Niagara's flourishing wine and culinary scene, we offer cuisine featuring  ingredients from local purveyors prepared by an internationally trained team of chefs led by Executive Chef Justin Downes.
Guests dine indoors in the renovated 1845 farmhouse or outdoors under the new shade sails. Wherever you are seated, you will take in  the views of rolling vineyards, the forests of the Niagara Escarpment and Lake Ontario and Toronto in the distance.
The Restaurant is open for Lunch and Dinner.
Wineshop : Built in 1877, this century barn was once used for farm equipment and storage. In 1999 the barn was fully restored to its classic beauty and is now the winery retail shop.
Vineland Estates Winery, 3620 Moyer Road, Vineland ON L0R 2C0 | 1 888 846 3526